Benefits: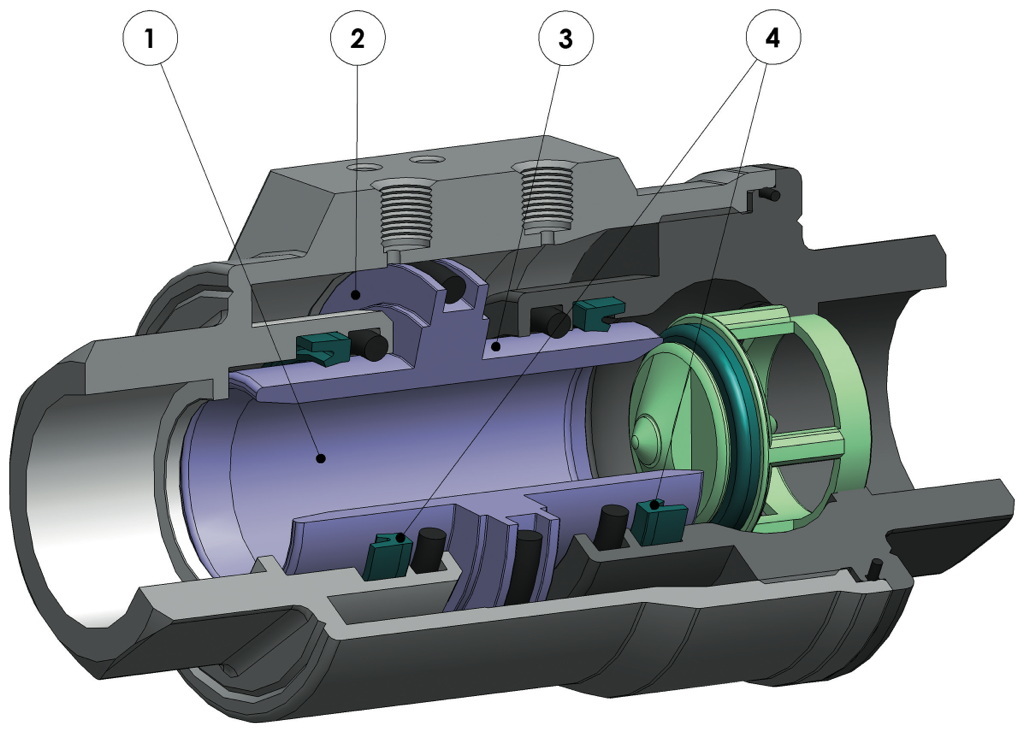 1. Internal diameter equal to the diameter of the pipe
High flow capacity
2. Pneumatic actuator integrated in the valve
Space saving (-60%) and reduced costs compared to an automated valve
3. Piston with chemical nickel plating (20-25 micron)
Lower wear of the seals due to the increase of the surface hardness (400 -550 HV)
4. Lip seals
Less wear of the seal comparing with an o-ring
Several seal materials available
Maximum compatibility with different types of fluids depending by the seals used

No external moving parts
Maximum safety
Easy mounting
Long life time granted
Lifetime 10 times longer than a ball valve with with reduced maintenance costs
100% in- house manufacturing process technology
Maximum control and accuracy in all the stages of the manufacturing process
Less Air consumption
80% less air consumption compared to an actuated valve with SR pneumatic actuator therefore less load on the compressor or the possibility of using a smaller compressor's size.
ATEX Certificate
Installation is allowed in a potential explosive environment

PED Certificate
Full compliance with European Safety Standards for Pressure Equipment
Features:
GENERAL FEATURES:
Both Double Acting and Spring Return VIP valves (either Normally Open or Normally Closed) are available in sizes ranging from 3/8" to 2".
Unidirectional flow.
GAS threaded ends as per EN 10226-1 Rp (Ex ISO 7/1) – DIN 2999 (NPT threads on request) with control fluid connections as per NAMUR interface.
Improved fluid dynamics allow minimum pressure losses. See Flow Pressure Diagram.
VIP valves can be used in any mounting position (horizontal, vertical or oblique).
They can be provided with seals in NBR, FKM or EPDM:
– NBR: suitable for air, gas, oils, water etc..
– FKM: perfectly suitable for most fluid. Unsuitable for steam.
– EPDM: perfectly suitable for hot water and steam. Unsuitable for mineral products (oils, grease, etc..).
For further information about gas, explosive fluids, material compatibilities etc. please contact our technical department.
Possibility to check open / close valve position thanks to inductive limit switches (magnetic contact) available on request. Internal magnet needs to be requested at VIP order phase.
According to 2014/68/EU "PED".
2014/34/EU ATEX configuration to request at time of order.

CONTROL MEDIA:
Filtered compressed air, not necessarily lubricated. At temperatures from -20°C to 0°C, use dry air. In case of lubricated air, seal compatible oil must be used.
Air supply:
3 bar min.- 8 bar max. in Double Acting execution.
4,2 bar min.- 8 bar max. in Spring Return execution.
OPERATING MEDIA:
Pressure: 10 bar max, see diagram
Temperature: from -20°C to +80°C (NBR); from -20°C to +150°C (FKM); from -20°C to +150°C (EPDM).
Vacuum tightness: 97% vacum (about 30 mbar absolut, -980 mbarg)
Dimension:

    DIMENSIONS

DN nominal diameter  mm.
10
15
20
25
32
40
50
size F GAS.
3/8"
1/2"
3/4"
1"
1"1/4
1"1/2
2"
 bore mm.
10
15
20
25
32
40
50
A mm.
54
60
70
76
92
102
115
øB  mm.
46
51,7
63,5
69
86
96
109
C mm.
98
112
135
143
165
180
207
ch. D  mm.
22
27
33
41
50
60
75
E  mm.
31
34
39
42
49
54
60
double acting air    dm3/cycle
0,024
0,035
0,063
0,080
0,150
0,219
0,310
spring return air   dm3/cycle
0,012
0,017
0,031
0,040
0,075
0,109
0,155
weight double acting "DA"   Kg.
0,80
1
1,59
1,8
3,13
3,5
5,5
weight spring return "SR"  Kg.
0,85
1,05
1,69
1,88
3,41
3,7
5,8